Program
Applied Physics and Electronics operates two concurrent annual programs: one for new participants and one for returning students. You can read more about these programs further below.
These programs are managed by program managers and carried out with the help of junior and professional associates. Programs consist of annual series of camps with theoretical topics and research projects within PFE's fields of interest. In addition, PFE camps enjoy the support of university and industry experts who regularly attend as visiting lecturers.
New participant program
Who's a new participant?
New participants are highschoolers who are on their first annual series of camps. To apply, new participants can complete the application form, using it to describe their experiences and interests. For more information on how to apply as a new participant, please follow our site and social networks!
What do they do?
New participant camps consist of topical lectures and practical workshops designed to acquaint the students with the basics of PFE's areas of expertise. Following this basic instruction in theoretical principles, they next learn how to properly use the lab equipment, how to take measurements in physics, as well as how to process, analyze and interpret those measurements. In later camps, new participants leverage this knowledge and skillset to execute "mini projects" that both serve as springboards for a deeper investigation into more specific areas and allow the students to reap the fruits of their labor, which gives them foundational support to prepare individual proposals for research projects they would then tackle in the next camp series.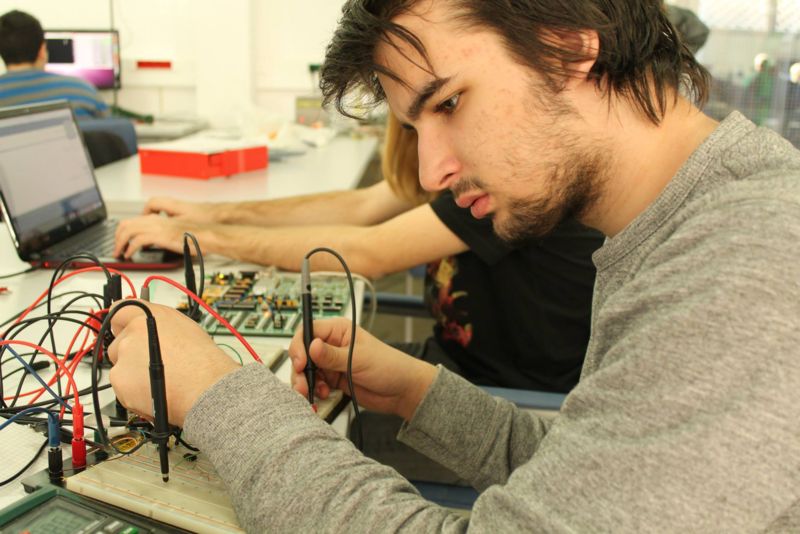 Returning students program
Who's a returning student?
Returning students are highschoolers who have previously completed the new participant program and have gained acceptance to the returning students program with their proposal for a research project.
What do they do?
The main objective of the returning students program is to execute the individual research projects. However, this program also contains expert lectures from across the breadth of PFE's topics, so the students can continue their development regardless of the specific subject matter that their project is treating. Each student is assigned a mentor to help them along on their research project. When the project is completed, students write their first research paper to publish their findings and results. A successfully completed project is the crown jewel of a student's participation. Students are invited to present their work and results at the conference of the Association of Applied Physics and Electronics, following which their paper will be published on PFE's website. The best projects will also get the chance to appear at one of Serbia's scientific and engineering conferences.
When the program is over, students can reapply with a new project proposal – unless they're graduating from high school, in which case the most tenacious ones may be invited to join PFE's team as associates!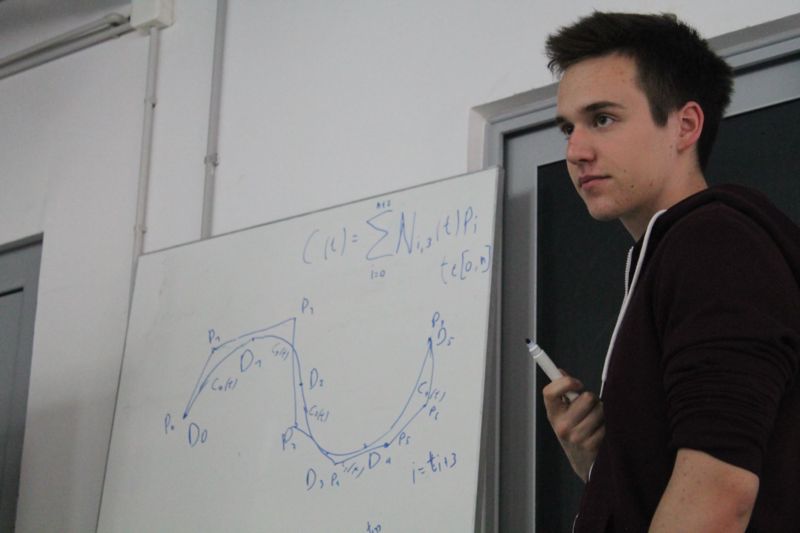 New participants

Winter camp

Lectures and workshops in mathematics, physics, fundamentals of electrical engineering, analog and digital electronics, programming, and microcontrollers are held by PFE associates, while the lectures on the cutting edge topics in industry and science are held by our external associates - professors from faculties and guests from the industry, with the aim of encouraging students to start searching for topics that interest them. Alongside professional activities, there are numerous activities through which we all get to know each other, such as conversations, watching movies, walks, etc. Due to increased capacity, a winter camp is being organized for two groups of students this year.

Spring online workshop

Two-day lectures and exercises in some of the fields we work in.

Summer camp

During the summer camp our main focus is on mini-projects that students will work on with their mentors. Working on projects helps students gain better practical knowledge in the fields they have worked on so far in this year's series of camps. Aside from the work on projects, lectures on related topics are being held by our senior associates.

Autumn camp

Focus is on writing paper reports for mini-projects that were the main focus of the summer camp, as well as presentation of the work done on the project. The task of writing reports works as a preparation for the series of camps for returning students, where the main goal is work on a research project. Also, new students will hear project presentations from returning students, which will make it easier for them to propose their first research project.

Returning students

Winter camp

A thematic camp with a combination of lectures and practical work in a specific field. One of the goals is to apply theoretical knowledge in practice with the help of our team, and relevant experts from science and industry as well.

Spring online workshop

Discussion of research project proposals, as well as additional online lectures by experts from science and industry in the fields that we cover. By the end of the workshop, students will have a better picture of all the project proposals. They will have the opportunity to choose who they will work with on their summer research project.

Summer camp

The longest and the most important camp of the year, where students do practical work on their independent projects that they have prepared throughout the year with the help of mentors from our team. During the camp additional lectures, nature walks, and various social activities are taking place as a way to recharge and rest.

Autumn camp

The aim of the camp is to complete the work on the summer projects, write reports on the work done, and prepare and hold project presentations. Returning students have the opportunity to present their summer project to the new participants and thus help them choose their projects for the next year. In addition to these activities, during the autumn camp, new participants and returning students will have the opportunity to get to know each other better and exchange ideas through discussions about project proposals for the next cycle.
The above dates are tentative. The page will be updated when specific dates are known.
What have our former participants said about PFE?
We asked our former participants to tell us what PFE meant for them. This is what we've heard back:
By far one of the most meaningful things that's ever happened to me. I can't precisely describe it, but partaking in PFE's activities has shaped me and made me a better person in every sense of the word. The people I've met are dear friends of mine and I wouldn't trade them for anything.
A place where I grew a lot, picked up a lot, learned a lot about myself and spent the best weeks of my life.
PFE has helped me gain an immense body of knowledge and, most importantly, has shaped my views at the world of science. It's a place where, for the first time, I've been given the chance to do things that interest me, in an exciting and different way, to meet folks with the same interests and ways of thinking (from all over the Balkans) and to actually understand what it is that draws me the most and what I want to do later in life. PFE has helped me to build myself up in every possible way, from scientific and professional to social and personal.
PFE was a way for me to gain an introduction at the many fields that they cover, in a different fashion, through research and peer study (which I consider the most important).